Station overview—Boat Creek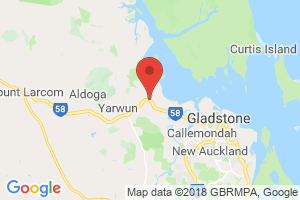 This monitoring station is located in the grounds of the Gladstone Area Water Board's Boat Creek pumping station on the Mt Larcom, Gladstone Road, north of Gladstone.
Established in June 2008, the station monitors emissions from the industrial area north of Gladstone. As part of the Clean and Healthy Air for Gladstone Project, the station measured levels of a range of hazardous air pollutants including heavy metals and organic compounds between November 2008 and June 2010.
Monitoring period

28 June 2008–

Parameters monitored

Nitrogen dioxide
Particle PM10
Particle PM2.5
Sulfur dioxide
Visibility
Humidity
Temperature
Wind direction
Wind speed
Current measurements at 9pm 20 July 2019
Meteorological

| Parameter | Measurement |
| --- | --- |
| Wind direction | 153deg |
| Wind speed | 1.5m/s |
| Temperature | 17.8°C |
Legend to air quality index colours
Very good

0–33

Good

34–66

Fair

67–99

Poor

100–149

Very poor

>150
None of the data is validated (0% validated, 0/8 records)